BioPak Food Packaging
Switch To BioPak Food Packaging - It's Cheaper Than You Think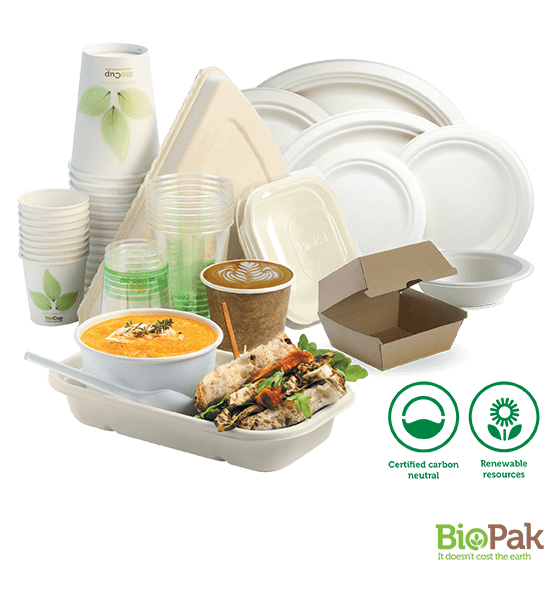 The BioPak range of eco friendly disposable food packaging is available from WF Plastic. It's been designed and manufactured to provide an affordable, hygienic, and aesthetically pleasing solution so that your customers can enjoy food on the go, without any negative impact on the environment. Additionally, with sustainability and eco-conscious living fast gaining popularity among consumers, BioPak food packaging solutions are good for business too.
We stock sustainable food packaging supplies made from plants, not oil, for businesses and end users who want to preserve and protect the environment for current and future generations. We have a wide variety of bio packaging ranging from coffee cups and cold drink cups, to plates, bowls and trays, napkins, bags, cutlery and more. Whatever you're serving, we have an eco-friendly food packaging solution for you.
More and more local councils and event organisers are demanding that vendors use sustainable food packaging to remain eligible to sell food at events. As a trusted BioPak partner, WF Plastic has you covered for these circumstances and more. Jump over to our wholesale website to check out the whole BioPak food packaging range.
Working Towards a sustainable future
Your Environment - Your Brand
CUSTOM PRINTED BIO PACKAGING
Talk to us about custom printing your BioPak food packaging. We can handle the process effortlessly for you at discounted pricing, working with you for best results on the bio packaging of your choice. Take a look at our Custom Print page for more details. More and more council areas are demanding compostable packaging these days, making branded bio packaging an excellent choice for your business for the future.