Cleaning Supplies
We Stock a Full Range of Commercial Cleaning Supplies
Food processing, Hospitality...
Detergents, Disinfectants, Floor Cleaners, Laundry...
WHOLESALE CLEANING SUPPLIES
We have a broad range of cleaning products available at wholesale prices, most of which are available in both 5L and 20L quantities. If you're starting a new business and require all of the usual cleaning and sanitising chemicals to keep your premises in top condition – we have you covered. Material Safety Data Sheets are also available on request to satisfy any local council requests for compliance.
We have busy established clients covered too, regularly providing cleaning supplies in quantities starting at just one drum, increasing all the way up to pallet loads delivered Australia wide. Our local manufacturing partner is associated with various market leading brands in Australia assuring you of only top quality Australian made cleaning chemicals.
To complement our extensive range of cleaning chemicals, we also stock a full range of rubbish bags ranging from 18L kitchen tidies all the way up to 240L council bin liners. Of course, nobody likes getting their hands dirty when cleaning up, so we also have a complete inventory of gloves to make sure that your hands remain clean when tidying up. Our gloves include nitrile gloves, latex gloves, vinyl gloves, polyethylene gloves, stretchies gloves and kitchen rubber gloves in all sizes.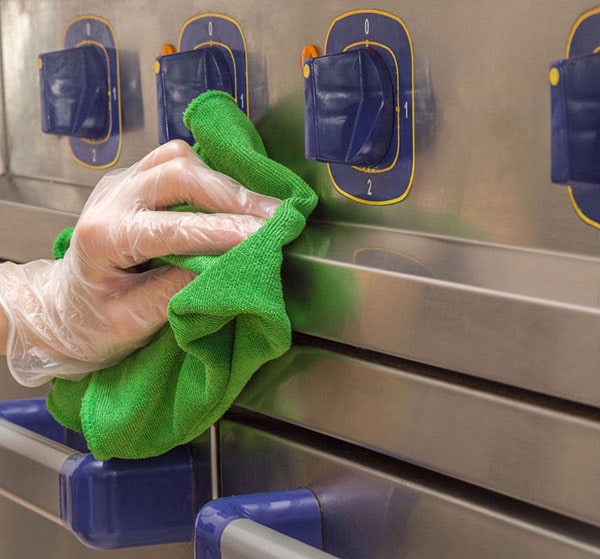 We have a broad range of wholesale cleaning supplies in stock at our Warwick Farm warehouses. They can be roughly broken down into the following sub categories as seen on our wholesale website under the Cleaning header.
Auto Dish Machines
Commercial Cleaning
Detergents
Disinfectants
Floor Cleaning
Food Processing
Health Care
Oven & Grill Cleaners
Auto Dish Machines
Commercial Cleaning
Detergents
Disinfectants
Floor Cleaning
Food Processing
Health Care
Oven & Grill Cleaners
Latex Gloves
Nitrile Gloves
Polyethylene Gloves
Powder Free Gloves
Rubber Gloves
Safety Gloves
Stretchies Gloves
Vinyl Gloves